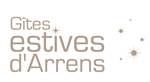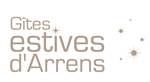 We offer a very comfortable stopover gîte (dormitory). This place is shared is ideal for hikers in the mountains who wants a comfortable shelter for either cyclists or bikers looking to sleep and retrieve their next step. A lockable bicycle room at your disposal free of charge.
For the single price € 21 per person you have a comfortable bed with a shower with instant hot water to relax after a day of exertion. A kitchen area is also available and the following equipment: microwave, fridge, kettle, crockery, kitchen cleaning basket (dishwashing liquid, scouring sponge, paper towel and tea towel). For your entertainment a flat screen TV and DVD player as well as board games. Shower gel and shampoo in the shower and a drying rack for laundry.
The paid services are:
- Bed linen 3 €
- Bath towel 2 €
- Washing machine and detergent € 3 (drying rack in the dormitory)
- Tumble dryer € 2
A mountain barbecue as well as the garden table and chairs (on request) are at your disposal in the walled garden.
Pets are not allowed in the stage lodge.